The company
ERI is a manufacturer of equipments and machines that meet the specific needs of various industrial customers. The expertise, gained from 30 years of activity in the field of industrial machines, makes ERI a specialist regarding industrial equipments.


ERI has been working for more than 35 years in close collaboration with GAZTRANSPORT and TECHNIGAZ, a French marine engineering company for membrane containment systems of LNG vessels. All equipment and machines used in the construction and repair of INVAR (iron-nickel alloy) membrane containment systems have been designed and manufactured by ERI.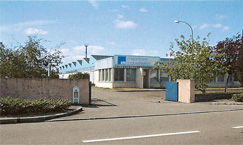 As an expert in on-board work on membrane type LNG vessels, ERI supplies brand new equipment to shipyards and also leases machines for repairs.
In LNG repair shipyards, ERI also supplies all materials needed for on-board work, including INVAR components (strakes, end strakes, overlaps, tongues, etc.) insulation wooden boxes, collar studs, insulation materials, flat washers, staples and screws… .
ERI leaflets
Research and Development
ERI's engineering and design department uses the most recent version of 3D CAD software to improve its existing machines and find the best solutions for its customers' requirements.
Thirty percent of ERI's personnel works in research and development activities.